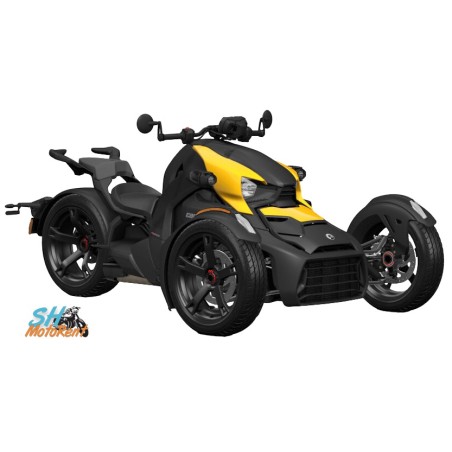  
Motorcycle Rental Can-Am Ryker ESSENTIAL Pack : Can-Am Ryker motorcycle rental per day :
Discover an atypical vehicle! The Can-Am Ryker is a 900cc 3-wheels motorcycle. Easy to drive, you will live a unique driving experience!
Unlimited mileage
Phone holder
Luggage
Photo Souvenir
SRA padlock
Free Rain Cancellation
 Other offers below : 

Rent an atypical and endearing vehicle! The Can-Am Ryker. Visit the Alpilles while riding the handlebars of this easy, adventurous and comfortable 3-wheel motorcycle. Les Baux-de-Provence, Saint-Rémy and Fontvieille will hold no secrets for you! Thanks to the flexibility of its Rotax 900cc engine, the Ryker will take you from Saintes Maries de la Mer to Mont Aigoual via Pont Du Gard.
CONDITIONS
License A
Minimum 25 ans
Deposit of 2000

€

Original license and identity card
 Why rent with us? 
Unlimited kilometers - 4 rental offers - Rain guarantee (find out more) - In the heart of the Avignon, Arles and Nîmes triangle - Characterful and stylish motorcycles - The options 1 per rental (Find out more) - Free Cancellation Rain - Close to the most beautiful regions of the South of France (Provence , Camargue, Vaucluse, Mont Ventoux, PACA) - 7 days a week - Phone support - Free parking

 Options of our Can-Am Ryker
Automatic gearbox - Reverse - Brake distribution - Traction Control - ABS - 900cc - 82 hp - 2 USB sockets - Black and yellow colors - Interior storage box - Adjustable footrest - Adjustable handlebar - Hill start assistance - Dashboard digital dashboard - LED lights - Nissin calipers - Modern and atypical design.
 THE ADVANTAGES OF THE ESSENTIAL PACK 

With this offer, you can drive our motorcycles wherever you want, because the kilometers are unlimited. No nasty surprises when you return the bike. We will also lend you a padlock and the motorcycle will be equipped with a phone holder and the cover corresponding to the size of your smartphone.
 CAN-AM RYKER 
Why did we choose this motorcycle?
The Can-AM Ryker is an unique and incredibly fun vehicle! With its three wheels, the Can-Am Ryker is a very stable and easy-to-drive vehicle. In fact, with this vehicle and its three wheels, it is impossible to fall as one could with a traditional motorcycle or quad.
The ride of the Ryker is quite difficult to describe. The driving position is quite similar to the driving position of a custom, however, it is necessary to turn the handlebars to make the motorcycle turn. A little like a quad. However, unlike a quad, it is impossible to turn around because the Can-Am Ryker is stable and turns smoothly.
The driving sensations are a clever blend of a snowmobile, a motorcycle and a quad.
The handling is very simple and very quick. Indeed, there is no gearbox. It is a variator. So, just accelerate and the three-wheeled vehicle starts. To brake, there is only one brake pedal at the feet. The brake is coupled at the front and rear of the machine.
In summary, it is very difficult to describe the sensations one feels at the handlebars of this machine. We therefore advise you to rent the Can-Am Ryker and discover for yourself the incredible and fun sensations provided by this vehicle.
Beautiful and long rides through Provence, Gard and Camargue await you at the handlebars of this strange, but so endearing, dynamic, but very easy to handle, and above all, unique vehicle.
Rent our Can-Am Ryker to visit Nîmes and its arenas, or Arles and its museum or Avignon and the famous Palace of the Popes.
Data sheet
Type of motorcycles

3 Wheels

Displacement

600 CC

Horsepower

50 HP

Engine Type

Twin

Seat Height

597 mm

Duo

Yes

A2 Licence

No

Weight

270 kg

Heated Grips

No

Engine mapping

No

12v/USB socket

Yes

Cornering ABS

No

Cornering Stability Control

Yes

Traction Control

Yes

Anti Wheeling

No

Shifter

No

Cruise Control

No
OFFER - ESSENTIAL
Daily Tarif TTC
Daily Rate
124.17€
Weekly Tarif TTC
8 days of rental ! ! !
932.50€
OFFER - COMFORT
Daily Tarif TTC
Daily Rate
149.17€
Weekly Tarif TTC
8 days of rental ! ! !
1,099.17€
OFFER - PREMIUM
Daily Tarif TTC
Daily Rate
174.17€
Weekly Tarif TTC
8 days of rental ! ! !
1,332.50€
OFFER - EXCLUSIVE
Daily Tarif TTC
Daily Rate
215.83€
Weekly Tarif TTC
8 days of rental ! ! !
1,649.17€