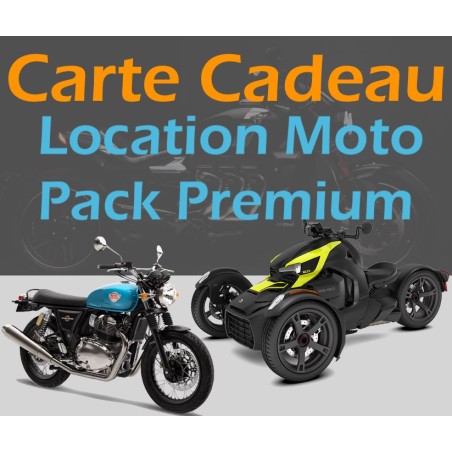  
"Premium" gift card for a motorcycle rental
Gift voucher card for a motorcycle rental with the "Comfort" offer pack which includes:
- Unlimited mileage
- Luggage included (depending on the model)
- Photo souvenir -GPS
- Gopro sports camera + videos
- Helmet + pilot & passenger gloves
- Phone holder
- SRA padlock
- Rain cancellation
Product customization
Don't forget to save your customization to be able to add to cart
Offer a gift card or gift certificate to one of your loved ones for a motorcycle rental in the South of France and more precisely in the Gard.
You will offer a gift voucher for a motorcycle rental for rides in the Camargue, in Provence or in the Cévennes.
Visit the biggest cities in the center of the South such as Avignon, Nîmes or Arles.
Thanks to this gift voucher, the person can choose any motorcycle from our rental catalog. (see the conditions for each motorcycle)
The rental of the motorcycle will be accompanied by a pack of offers called "Comfort"
This includes the following options:
- Unlimited mileage
- Luggage included (depending on the model)
- Photo souvenir -GPS
- Gopro sports camera + videos
- Helmet + pilot & passenger gloves
- Phone holder
- SRA padlock
- Rain cancellation